Dear World Changers:
I just arrived in Amsterdam and am preparing to minister in a few hours. When I was here two years ago, the Lord showed me His desire to penetrate the atmosphere of The Netherlands and form a "net" for all of Europe.  This is a time to declare that the Dutch people will find any fragmentation or holes that need fixing so they can find and align with God's plan for this nation and continent.  I am grateful for Dick and Arleen Westerhof hosting tonight's gathering.  Please join us in praying for the Spirit of Wisdom and Revelation to open new doors of Kingdom advancement.  Joining me on this assignment are Marty Cassady, Chad Foxworth, John Mark Pierce, John & Sheryl Price, Aaron Smith, and James Vincent.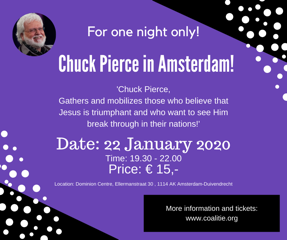 Tomorrow we fly on to England to join Trevor & Sharon Baker at The Secret Place Conference.  Please pray that what is initiated here in Amsterdam will accelerate in the United Kingdom and across Europe.  I minister Thursday night and Friday morning, before flying on to Las Vegas to join Paul and Denise Goulet at the International Church of Las Vegas for their annual Prophetic Conference.
Blessings,
Chuck D. Pierce