Join Tonight's Special Hanukkah Celebration!
Dear Celebrating Ones:
Tevet is a time to celebrate!   Our Firstfruits Celebration not only unlocked a "stomp" in the earth but an activation of faith for miracles.  In this year of divine recovery, do not miss the power of rededication and sustaining grace found in Tevet and the Feast of Hanukkah.  When we celebrate that LIGHT always overcomes the darkness, His anointing grows brighter and yokes are broken off.  If you could not join us yesterday, I encourage you to watch the replay and see yourself in the army that is advancing.  Robert Heidler's teaching on Hanukkah will help you enter this "Feast of Miracles" and then be sent forth into Tevet with hope and power!
Firstfruits is an incredible time of bringing our first and best in worship to the Lord.  You are not only giving from what you've received but are also sowing into your future.  As you advance in your Tevet Firstfruits giving, I declare the Spirit of God will surprise you and allow you to see and hear in new ways. 
A Special Hanukkah Celebration!
Our faith for miracles will go even higher tonight with our special Hanukkah Celebration!  I have asked James and Robyn Vincent to lead us forth by ascending in worship.  The Lift will be a prophetic outpouring of song and declaration that connects heaven and earth.  If you cannot join us in the Tabernacle at 7 PM CST, this service will also be available by live webcast and replay.  After celebrating the Desire of the Nations in worship, we can then be sent into the Israel Prayer Garden for refreshments and joy.  Strolling through the thousands and thousands of holiday lights, you can enjoy our complimentary hot chocolate, wassail and cookie stations, warm up by our fire pits as you make s'mores, and enjoy a great night with family, friends and neighbors.  I encourage you to invite anyone in the community for worship, as well as this come-and-go time in the Garden to celebrate the Light of the World!
Aligning the Sounds of Heaven and Earth!
Three weeks ago the Lord showed me a picture of His angelic troop creating a "stomp" in Heaven.  I then spoke to our team to develop an expression of this in the earth realm.  What they presented yesterday for Firstfruits in the Little Drummer Boy was just incredible.  Watch the video and be anointed to advance with this sound and look!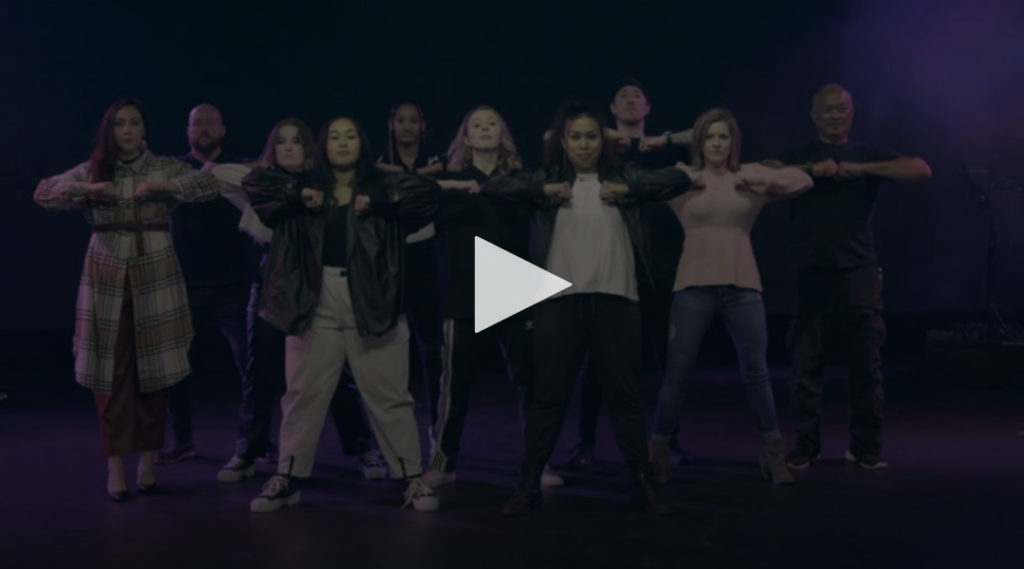 Find Your Place in My Procession of Praise and War!
This is a time we must see ourselves in the Lord's procession … seeing ourselves in the army coming to Him.  We will be an army with banners, moving in unity — a unity that produces an anointing that breaks the yoke.  Here is a portion of the amazing revelation that came forward from The Little Drummer Boy "Stomp".
"I have rent the heavens and I have responded to your stomp and the vibration of the land. I will come to this land this week, with angelic help on your behalf! I have had the angels that begin to put their swords in their sheaths, and they have begun to surround this nation again. As you begin to vibrate, and as you begin to beat your chest, I will send help! Rend the heavens! Rend the heavens this hour!
"I Am quickening and readying My people; I Am equipping them and saying, 'Get in My movement for My movement has begun!' Don't look to the right, and don't be distracted to the left. I Am mobilizing an army, and many of those that come into it will not be who you thought. They will have a great strength for the future even though they have misused strength for the past. In this year of divine recovery, I will even recover what they lost from their sin and use it against the enemy!
"The four winds are blowing now, and they are breathing life on those dry bones in the past season. The army that you see is only dead. but with one quick word from My mouth I can revive anything! I will revive these dry bones and as these dry bones come, I will send them all across this nation and earth. From the four winds to the four corners, a troop is rising!
"I Am throwing open doors! I Am throwing open doors to the right, to the left, to the front and behind – doors of healing, doors of restoration, doors of recovery, doors of anointing, doors of sending! I Am opening the doors to your future! I have a procession in heaven, and I Am bringing that procession to earth! Get in the procession as I bring it past your place! Welcome My angels into the procession as they accompany My movement."
(Keevy Phillips, Chuck D. Pierce, Anne Tate)
Blessings,
Chuck D. Pierce